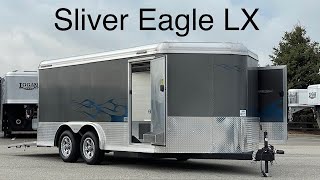 Specs
Type

Other

Year

2019

Make

Logan Coach

Model

Silver Eagle LX

Stock ID

5U230630

VIN (Last 6)

007952

List Price

$12,994

Status

Available

Condition

Used

Pull Type

Bumper
Video Walkthrough of 5U230630
Disclaimer: Due to the many available customizable exterior and interior details on this make/model/submodel, this video may not feature this exact vehicle. Please contact Transwest directly if you have specific requests for this make/model/submodel that are not answered in this video or vehicle description or if you'd like an in-person tour.
This horse & livestock trailer can be found at our Transwest location near
Denver, CO
Location Details
2019 Logan Coach Silver Eagle LX
Transwest of Frederick, CO
7550 E I25 Frontage Rd
Frederick, CO 80516
(303) 684-3400
Specs
Type

Other

Year

2019

Make

Logan Coach

Model

Silver Eagle LX

Stock ID

5U230630

VIN (Last 6)

007952

List Price

$12,994

Status

Available

Condition

Used

Pull Type

Bumper
Amenities
Stall Amenities: Escape Door, Interior Lights.
Suspension/Brakes/Axles
Suspension Type

Rubber Torsion

Axle Rating

3500

Number of Axles

2
Exterior
Overall Length

13'

Exterior Color

Charcoal

Body Material

Aluminum-Steel

Roof Type

Aluminum

Rear Doors

Other
Misc.
Empty Weight

2500

Jack Type

Single