NEW FEATURES AND PRODUCT CHANGES
FLOOR PLANS With all new model upgrades in 2020, Newmar's Floor Plan Team had as an objective for 2020. To give just you a bit more space in the room between the bed and the nightstands in its gas products.
Their intention was to make it easier for you to make the bed and eliminate the struggle of getting your hands between the bed and the night tables.
For 2020, the Canyon Star 3513, 3627, 3710, 3719, 3722, 3911, and 3927 have been kept in the floor plan line up.
The following 2019 Canyon Star models have been discontinued: 3608, 3646 (replaced with the 3747), 3723 and 3924.
Canyon Star 3747:
The new 2020 Canyon Star 3747 offers a king bed, and a triple slide bath and a half floor plan. The 3747 will replace Newmar's 3646 bath and a half model offered in 2019.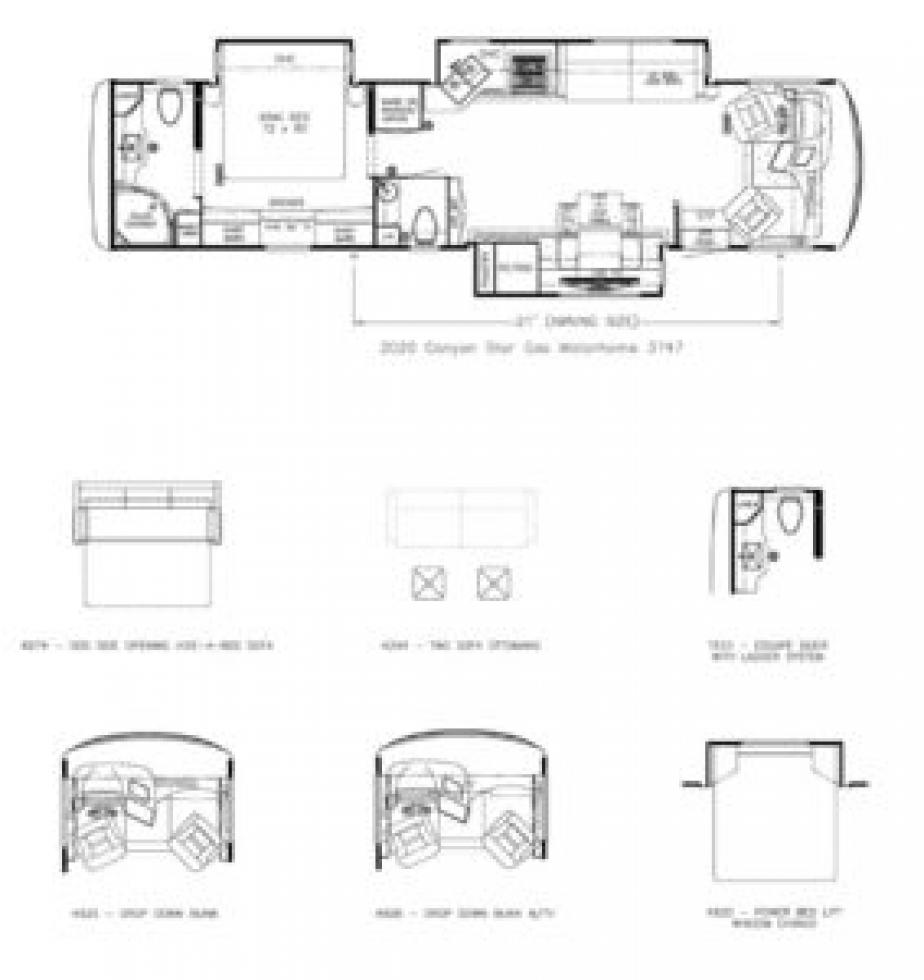 Your forward entertaining area gives you opposing slide outs with an 87" sofa and kitchen in the slide room on the off door side.
The door side slides out features a large buffet with "televator" and a hide-a-leaf table, with 2 fixed chairs for intimate meals and two folding chairs, for game night. This patio side slide room also contains your full-size refrigerator and plenty of pantry space.
The roomy and functional half bath is located mid-ship across from which is a cabinet that can house an optional 2-piece washer & dryer.
The master suite is spacious with a king bed, a large shirt wardrobe, dresser storage, and your television for easy relaxing.
The master bathroom found behind the bedroom at the far rear of your 3747, and has a 35" radius shower, large vanity, linen storage and commode
Canyon Star 3929:
The 2020 Canyon Star 3929 is new a triple slide floor plan with a full wall slide on the off entry door side. The most unique feature of this model is the room in the far rear of the coach (to the rear of the master bedroom), which includes a pair of 30" X 76" bunk beds, a half bath, shirt wardrobe as well as a cabinet which can house a 2-piece washer and dryer.
• The entertaining area of the new Canyon Star 3929 includes an 84" sofa and roomy galley on the off door side across from a dinette booth with "televator" on the door side.
•The middle of your coach features a full bath with a 40" X 32" shower, large vanity, and linen storage. Pantry space is in abundance along the bath wall facing the kitchen.
• Your master bedroom features a king bed, shirt wardrobe as well as a television conveniently placed for excellent late night viewing from the bed.
• Your mid-space living area 3929 is the perfect resting place for all your guests, with a pair of bunk beds and half bath, in addition to the washer and dryer cabinet and handy wardrobe.
APPLIANCES AND ACCESSORIES
• The Vizio brand televisions previously used in Newmar's gas brands in 2019 have been upgraded to Samsung brand models.
•Your 2019 option for 30" stainless steel convection microwave with 3 burner cooktop is now a standard in 2020, as you chose it 94% of the time on 2019 Canyon Star orders.
• Truma's "Aqua Go" instant and the continuous flow water heater is standard on the Canyon Star 3927 (garage) model for 2020.
CABINETS AND FURNITURE
• Your furniture in the 2020 Canyon Star has been redesigned.
• Most of the drawers now have soft close mechanisms as a standard feature in the 2020 Canyon Star.
• A new Villa Comfort Fit booth dinette is the standard in most 2020 Canyon Star models. The benefit for you is better comfort and the ability to convert the dinette into a small bed for added sleeping space.
•There's a 4th wood grain finish that they have added to Canyon Star for 2020. The standard wrapped style is called "Arctic Maple Glaze", and the new optional hardwood is called "Glacier Maple Glaze".
• Hardwood slideout fascias will be standard with both, the standard wrapped style wood finishes and the optional hardwood options.
ELECTRICAL FEATURES
• They've added some beautiful wall sconces for you in the 2020 Canyon Star.
• On 2020 Canyon Star models featuring standard bunk beds, combination 110 volt / USB receptacles replace the USB outlets previously offered in 2019.
• A Xantrex 1200 watt pure sine wave inverter replaces the 1000 watt model previously used on the Canyon Star 3513, 3608, 3723 and 3927 models, which feature lift pumps requiring more power capacity. This new 1200 watt inverter has a built-in transfer relay and increased surge capacity.
EXTERIOR FEATURES
• The 2020 Canyon Star features a redesigned sewer hose port in the floor of the waterworks compartment. This enhancement provides a sump to recess the port making easier to clean up. This was done in response to customers' requests.
• The 2020 Canyon Star has new exterior paint graphics for 2020. Three exterior graphics (instead of only 2 offered previously) will be available for the 2020 model year on all Newmar gas products.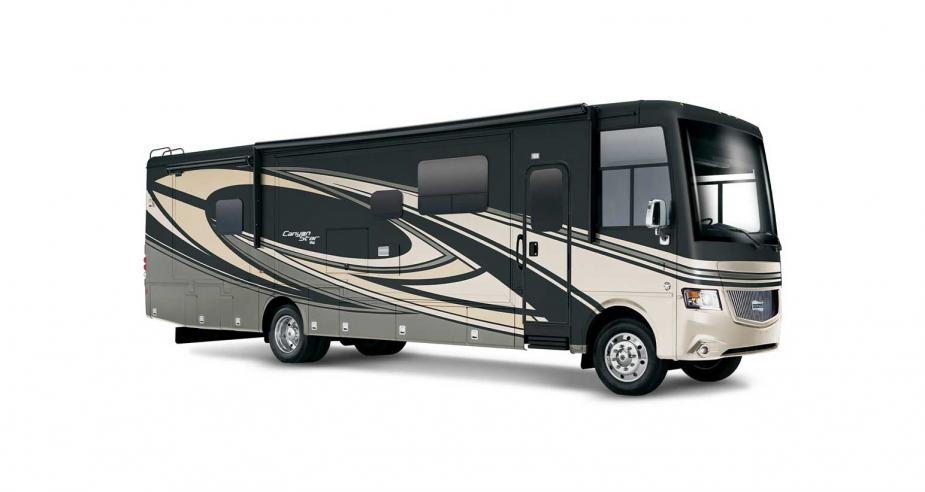 • Two-stage struts replace the adjustable strut brackets on top hinged baggage doors for 2020.
• A one-piece molded fiberglass roof is standard on the 2020 Canyon Star. Available as an option in 2019, this feature was selected on 95% of the Canyon Star orders during the previous model year.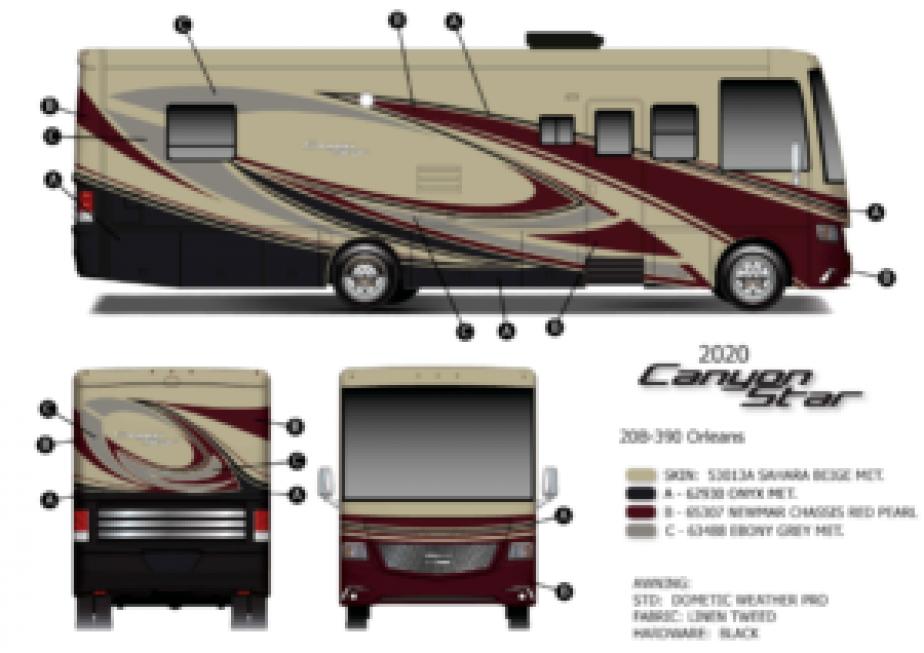 INTERIOR FEATURES
• Newmar is offering a few new decors, including a 3rd choice of interior fabrics, on the 2020 Canyon Star.
• These new interior décor packages will also feature new colors for the dash in the front cockpit area, as well as new wall art in the living area.
• A new style of cabinet drawer and door hardware is being offered in Canyon Star for 2020.
• A new kitchen and bath backsplash design will be a highlight inside the 2020 Canyon Star
PLUMBING AND BATH FEATURES
• A New rectangular stainless steel sink provides a fresh look in the vanity of the master bathroom in the 2020 Canyon Star.
• In half bath areas of specific 2020 Canyon Star floor plans, smaller oval stainless steel sinks are being replaced with vessel sinks where applicable.
CONSTRUCTION FEATURES
• The scissor style automated mechanical lock arms introduced in the 2019 Ventana is standard in the 2020 Canyon Star.
WINDOWS, AWNINGS, VENTS & DOORS
• An A & E 9100 series power patio awning is a standard feature in Canyon Star for 2020. This replaces the previous model awning as it has been obsoleted by Dometic. This new awning used motion sensor technology rather than a wind sensor and features an LED light strip.
OPTION CHANGES• Splendide two piece 120-volt washer and dryer replace the Whirlpool models used in 2019. These units are a matching set, where the Whirlpool units did not share similar designs.
• A new option (L285) for a dedicated 1200 watt inverter to power the electrical outlets in the bed base, nightstand and overhead cabinet in the bedroom is being offered. This option also includes one extra 110-volt receptacle inside the cabinet at the head of the bed located in the center of that cabinet, as well as pass-through ports in the bottom of the overhead cabinet at both sides of the bed. This option is specifically intended to accommodate customers' requests for a way to more easily accommodate CPAP machines.
• One large window will be featured in the option for 2 recliners. This follows closely what Newmar has done with recliner options offered on its hi-end luxury brands.
Option L280 offering the TV inverter will provide a 1200 watt Xantrex pure sine wave inverter rather than the 1000 watt model previously offered in 2019. This new 1200 watt inverter has a built-in transfer relay and increased surge capacity over the current model.
• Whenever any 2020 Canyon Star order calls for 2 or more options that require additional dedicated inverters, the multiple optional inverters will be replaced with a single 2000 watt inverter with six 6 volt batteries to power all of the selected options. This will not be visible on the order forms, and nothing changes with regard to descriptions of the individual options on the order forms. This is simply an electrical configuration that will be defaulted to whenever 2 order more options with dedicated inverters are called for on an individual ordered Canyon Star.
• A 4th color has been added to the vinyl plank flooring option on Canyon Star for 2020. This 4th wood finish was designed to coordinate with the new "Arctic" wrapped style and "Glacier" hardwood cabinet colors available this model year.
• Two 15,000 BTU air conditioner units with heat pumps have been made standard on Canyon Star for the 2020 model year.
Newmar Canyon Star RVs for Sale
Check out the best in RVs.
Journey into Other Topics
Our industry experts are here to help.