Spring Cleaning Tips for Your RV
With the warmer weather arriving, many folks are pulling their RVs out of storage and getting ready for a summer filled with road trips. But before you head out on your first trip of the year, it can be helpful to make sure your RV is clean and ready for the road.
Over the winter months, your RV probably did more than just collect a little bit of dust. Depending on how it was stored and how you left it at the end of the last season, it can require a little more than a quick sweep out. Get ready for the summer with our guide to spring cleaning your RV.
If you're in a rush or simply don't have the time to dedicate to cleaning your motorhome, Transwest has services that can get your RV cleaned up in no time. The RV service center at Transwest is proud to offer a range of RV spa services, including touchless spray wash, hand wash, buff, and wax to keep the exterior of your vehicle sparkling. For the inside of your vehicle, we offer an interior detail package plus steam cleaning for your carpet. Contact a Transwest location near you to schedule your spa services.
Cleaning the Exterior
Over the winter, if your RV was in storage, the exterior of your motorhome may have gathered dust, dirt, and debris, particularly if it was stored out in the open. Road grime might have built up on the roof and body if you used your RV during the winter months. Either way, use the following tips to ensure that your motorhome's exterior is ready for the upcoming season.
Head to an RV Wash
At least once every season, you should have the exterior of your RV thoroughly washed. Washing your RV is about more than just restoring its shine. Cleaning the exterior helps protect the paint and prevents winter road salts and corrosive chemicals from taking their toll on the RV's body.
Not only that, but when you wash your RV, it will be easier to see where you have developed any cracks in the roofing or chips in the paint, which are often covered up by dirt.
Polish Mirrors and Glass
Using a window cleaning solution, take the time to polish the exterior of each window on your RV, including your windshield and cab windows. At the same time, clean off mirrors and any backup cameras to ensure you have a safe view of everything on the road.
Clear Out Exterior Storage Compartments
If your RV contains exterior storage compartments, pull everything out and give the interior of the compartments a thorough cleaning. Often, tools, jacks, and extra camping gear can bring dirt and rust into these compartments. Cleaning them out each season can help protect the interior and allow you to reorganize the space.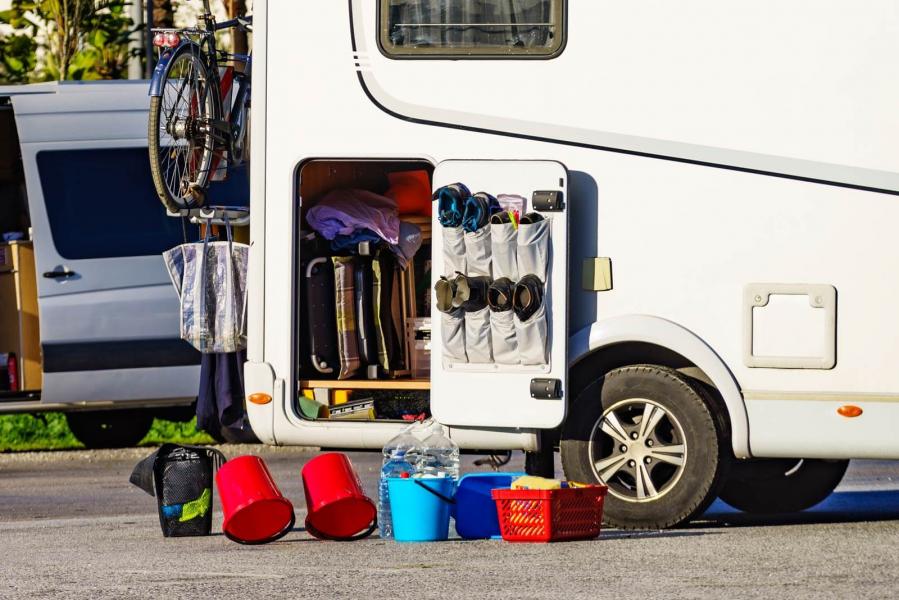 Invest in an RV Cover
One of the best ways to protect your RV in storage is by placing a cover on it. You can purchase an RV cover at most local RV stores. Covering your RV will go a long way in protecting the lifespan of your roof and help keep the exterior paint from chipping and peeling.
Feel like having someone else do the dirty work? Consider taking your RV into a service center where they offer professional RV spa services. Many packages include washing, waxing, buffing, detailing, and even steam cleaning your carpets. This also provides you with the chance to have your RV inspected, preventing costly repairs down the road.
Cleaning the Interior
With the exterior of your RV spic and span, it's time to do a thorough cleaning of the interior. Cleaning the inside of your motorhome will keep the space inviting and will ensure that surfaces are disinfected and that no leftover bits of food attract pests.
Pull Everything Out
Start by pulling everything from inside of your RV out. This should include clothing, bedding, kitchen supplies, food, and clutter that may have accumulated throughout. While it may be a good bit of work upfront, when you empty your RV, you can do a better job of deep cleaning each area.

Deep Clean the Kitchen
If your RV contains a kitchen, spend some time wiping out cabinets and drawers and disinfecting all cooking surfaces. It is important to ensure that no bits of food or sticky residue are left behind, attracting rodents, insects, and other pests. Not only that, but food bits that are left behind in cabinets, drawers, stovetops, and sinks can begin to mold, leading to a less than pleasant odor.
Deep Clean the Bathroom(s)
Another area that deserves a deep clean is any bathrooms in your RV. Choose a disinfectant that will remove any germs and viruses off of surfaces.
Make sure to wipe down the interior of bathroom drawers and cabinets and check over all your plumbing to make sure everything is operational for the season ahead.
Dust-Off Bookshelves and Surfaces
Go through any living spaces and bedrooms and wipe down bookshelves and any surface that may have accumulated dust. For wood surfaces, make sure to use a wood-safe polish.
Sweep, Mop, and Vacuum
After everything is cleaned, go through each room and sweep, mop, and vacuum. Treat the area with a carpet cleaning solution if you notice any stains on your carpeting.
Polish Windows
With the exterior of your windows shiny, it's time to polish the inside of each window. Everyone will enjoy the view on the drive and once you arrive at camp. More importantly, it will help keep your vision clear on the road.
Consider New Organizational Add-Ons
As you bring all your belongings back into your RV, consider improving how things are organized. You can use shelving dividers, drawer inserts, and tubs to keep your belongings from moving around while in transit. Most RV stores will carry a wide selection of products custom-made for the size of RV cabinets, closets, and drawers.
Transwest has an extensive selection of parts and accessories for RVs, plus an expert team that can make installation a breeze. Contact the RV parts department to learn more.
Consider Swapping Your RV This Spring for Something Fresh
If you'd like some help with your spring cleaning, the RV service center at Transwest is proud to offer a range of RV spa services. Contact a Transwest location near you to schedule your spa services.
As you deep clean your RV for the season ahead, perhaps it's time for a whole new upgrade. At Transwest, we accept RV trade-ins and will be happy to help you find something fresh for the season ahead. Whether you are looking for a small campervan or a large luxury coach, we carry quality motorhomes from the leading manufacturers.
Stop by a nearby location today to learn more about upgrading your RV.
RVs for Sale
Check out the best in RVs.
Journey into Other Topics
Our industry experts are here to help.