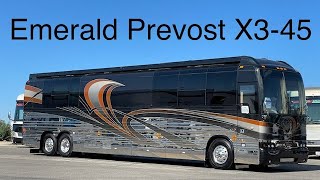 Specs
Type

Bus Conversion

Year

2014

Make

Emerald

Model

Prevost

Submodel

X3-45

Chassis Brand

Prevost

Stock ID

5U220430

VIN (Last 6)

735299

List Price

$698,056

Status

Available

Condition

Used

Mileage

32888
Video Walkthrough of 5U220430
Disclaimer: Due to the many available customizable exterior and interior details on this make/model/submodel, this video may not feature this exact vehicle. Please contact Transwest directly if you have specific requests for this make/model/submodel that are not answered in this video or vehicle description or if you'd like an in-person tour.
2014 Emerald Prevost X3-45
Transwest of Frederick, CO
4001 Commerce Dr
Frederick, CO 80504
(303) 684-3450
Specs
Type

Bus Conversion

Year

2014

Make

Emerald

Model

Prevost

Submodel

X3-45

Chassis Brand

Prevost

Stock ID

5U220430

VIN (Last 6)

735299

List Price

$698,056

Status

Available

Condition

Used

Mileage

32888
Amenities
Bedroom Amenities: King Bed.
Kitchen Amenities: Microwave/ Convection Oven, Refrigerator Residential.
Living Room Amenities: Sofa Jack Knife, Dinette, Recliner.
Engine/Transmission
Engine Make

Volvo

Fuel Type

Diesel

Horse Power

500
Exterior
Overall Length

45'

Exterior Color

Silver

Roof Type

Fiberglass

Awning

Patio

Number of Slide Outs

2
Interior
Sleeping Capacity

8

Number of ACs

4
Misc.
Empty Weight

50800

GVWR

54000

Generator Size (kW)

20000

Hitch Rating

20,000