Horse Trailer Basics: A Guide to Horse Trailer Types
Horse trailers make it easy, convenient, and safe to transport horses to and from events and trailheads. While all horse trailers share one thing in common — the transportation of horses — they are designed in numerous styles and sizes. Additionally, each type of horse trailer features its own unique set of amenities.
In the following guide, we'll outline the most common type of horse trailers and the benefits that each style brings. If you are looking for further information about purchasing a new horse trailer, don't hesitate to reach out to our team at Transwest.
Horse Trailers with Living Quarters
If you are searching for an option that will allow you to travel to trailheads and events in true comfort, a horse trailer with living quarters is the best choice.
These horse trailers not only feature all the normal amenities you would expect from a horse trailer but are also designed with separate living quarters.
Usually, a horse trailer with living quarters features a gooseneck attachment. Above the gooseneck is where the bulk of the living quarters resides.
The interior of the trailer's living quarters varies based on the make and model, but you can expect most of these trailers to be designed with the following features:
A dedicated bedroom, often featuring a queen size bed
Ample storage options, such as wardrobes, closets, dressers, cabinets, and drawers
A kitchenette with a fridge, sink, and cooktop
A dining area
A living space with a couch, in many cases this couch doubles as another sleeping space
Extra bunk bed options
A bathroom with a shower, toilet, and sink
Additionally, many new horse trailer models with living quarters feature premium technology add-ons, such as built-in entertainment systems, WiFi capabilities, and electric or hydraulic slideouts.
Gooseneck Horse Trailers
One of the most popular styles of horse trailers is a gooseneck horse trailer. These horse trailers are ideal for long-distance hauling and heavier load capacities. Due to the sturdy tongue that attaches to the bed of the towing truck, these trailers offer improved towing stability. The gooseneck design also means that the trailer's weight rests on the truck's rear axle rather than on the bumper of the tow vehicle, which puts less strain on your truck. Additionally, a gooseneck horse trailer offers improved maneuverability with reduced sway when traveling, even in windy or less than ideal weather conditions.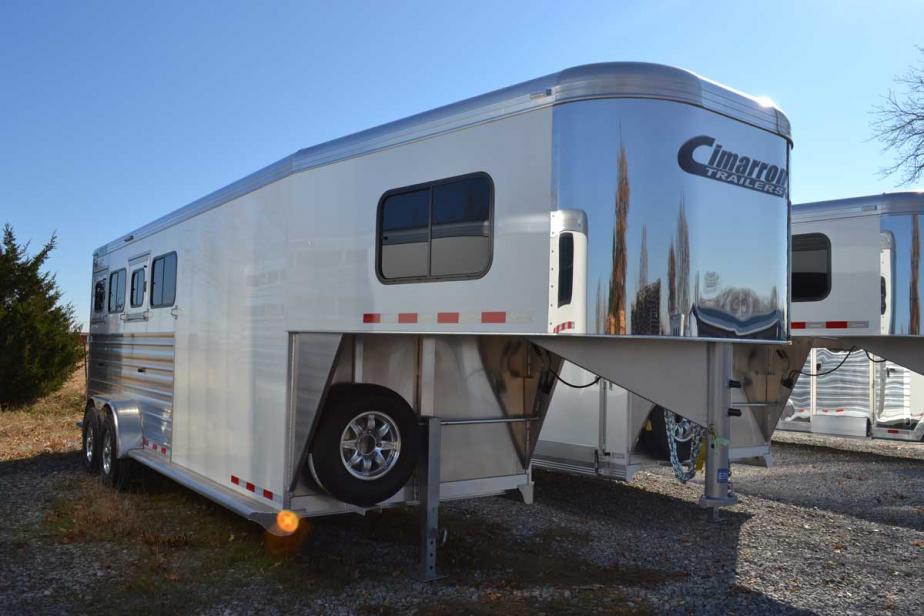 Gooseneck Horse TrailerBeyond just their superior towing capability, gooseneck trailers are also a great pick for those who are looking for a trailer with living quarters or extra storage space. The front of the gooseneck hitch acts as an elevated space where a bed, living quarters, or storage area can be designed.
With numerous gooseneck trailer styles available, there is something to match any hauling need.
Horse Bumper Pull Trailers
Another popular style of a horse trailer is the horse bumper pull trailer. These trailers connect to the tow vehicle using a standard bumper hitch. Since most SUVs and trucks come with the factory option of a bumper hitch, these trailers do not necessitate extra equipment for towing. In some cases, it can be helpful to add a weight distribution system, but often, a truck or SUV can tow one of these trailers without modification.
Bumper pull horse trailers are a good solution for those needing a smaller trailer option. These trailers are also a cost-effective choice, making them a great choice for those who simply need to transport a single horse or two for short distances.
In addition to their convenience and affordability, horse bumper pull trailers are designed to offer improved fuel efficiency during towing. They are often built from lightweight but highly durable aluminum, and they can be equipped with any extra tack options desired.
1-2 Horse Trailers
When you only need to transport a single horse or two horses at a time, a 1-2 horse trailer is a great choice. This style of horse trailer is specifically designed to comfortably and safely accommodate one to two horses.
Due to the smaller size of these trailers, they are easy to haul and can offer improved fuel efficiency. In addition, 1-2 horse trailers come in a variety of designs, including both bumper pull and gooseneck styles.
They can be designed with a tack room and built-in stall options, such as a feeder, hay rack, and dividers. Many of these horse trailers are also designed with roof vents, insulation, and high-traction flooring for the comfort of your horses during transport. Plus, 1-2 horse trailers are also equipped with various loading styles, including back door and side door loading options.
1-2 Horse Trailers for Sale
Check out the best in horse & livestock trailers.
3-4 Horse Trailers
When you need to transport three to four horses, it's time to upgrade to a larger horse trailer. Both 3-horse and 4-horse trailers are designed to ensure the safety and comfort of your animals when in transit.
These trailers can be designed with living quarters or equipped with extra tack room space. Due to their large size, they are often a gooseneck trailer, requiring a specialized hitch for towing.
Like 1-2 horse trailers, these trailers can be outfitted with all the extra amenities you desire. Most come equipped with dividers, vents, mangers, and rubber or high-traction flooring. Most of these horse trailers are equipped with slant loading to accommodate multiple horses, allowing horses to travel comfortably with plenty of room for natural movement.
3-4 Horse Trailers for Sale
Check out the best in horse & livestock trailers.
5-10 Horse Trailers
The largest style of horse trailers, 5-horse to 10-horse trailers offer ample space for your horses. These models can be designed with living quarters, allowing you to also travel in comfort on long trips.
Due to their large size, these trailers feature a gooseneck attachment to ensure stability on the road.
Additionally, these large horse trailers can be designed with almost any feature or amenity desired. Many feature hay racks, escape doors, kick mats, mangers, padded dividers, walk-through doors, roof vents, and load lights. These trailers also may have additional storage and a larger tack room.
5+ Horse Trailers for Sale
Check out the best in horse & livestock trailers.
Visit Transwest to Find the Perfect Horse Trailer
No matter what style of horse trailer you need, we can help. At Transwest, we carry a quality inventory of horse trailers ranging from small single horse bumper pulls to large eight-horse goosenecks. We carry horse trailers with living quarters, with built-in tack rooms, and we stock trailers from the brands you trust.
Additionally, our team can assist you with horse trailer maintenance, parts, and financing. Come visit one of our locations today to learn more about which horse trailer type is ideal for your needs.