ADVENTURES IN A "BACKPACK"…
They named their new RV, "Backpack"…
"Choosing THE ONE:
We found the perfect RV for our style and our needs at Transwest Truck Trailer & RV in Frederick. They had several used options on their lot, as well as some very nice new ones that were way out of our price range. But those are still fun to look at sometimes! Grant was our salesman, and he was a breeze to work with. He did not pressure us in any way and he took the time to actually listen to what we were looking for before showing us his inventory. Truly, we appreciated that after being drug around another lot of an unmentioned name for 2 hours looking at basically the same RV over and over and over… ugh!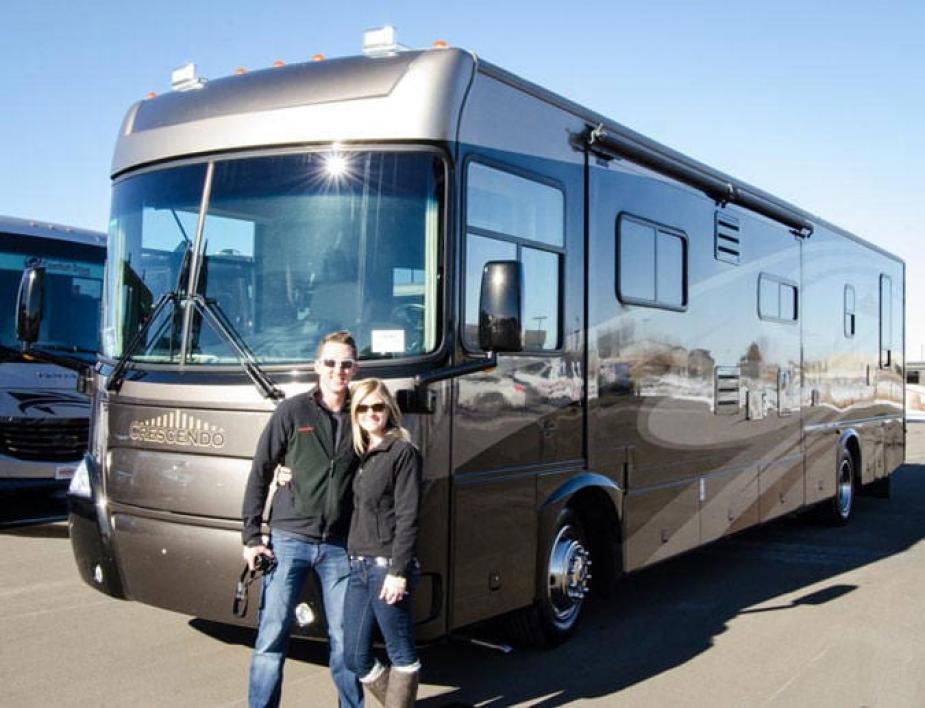 When we saw the Crescendo, we knew that was the one we wanted. However, we didn't want to rush into anything, so we asked for a night to think about it before committing. Grant was great and gave us his cell number even though he was flying out that night for a weekend trip. He told us to call him when we had a decision, even if he was away. So the next day, we decided that we were going to buy the Crescendo. One simple phone call and a small deposit over the phone later, we had secured our RV!
THE DELIVERY:
Once we did the initial test drive to see what all needed to be tweaked, we had the dealership keep the RV for a few weeks for us until we were ready to take it. We didn't want it sitting outside our house for longer than it needed to be, and it was safe and locked up at their lot. The day after New Year's Day, we drove up to Transwest to take delivery.
Transwest had it stored in their bay for us, which was nice because it was 18 degrees outside. Grant met us out there and introduced us to Matt, who did a full walk-through of the RV with us. He showed us every switch, wire, and a panel there was on that RV (which is a lot!) and was very patient with all of our questions. Matt was very knowledgeable and very helpful to us newbies!
Once we were done with the walk-through, we signed a couple more documents, got the keys, and we were ready to go! Okay, we didn't go just yet. Transwest gave us a "Welcome" kit for our new RV, including but not limited to a new hose kit, some shop towels, and a bottle of wine (they know the way to my heart). Then Grant took our picture with our new RV and saw us off.
Overall, I am very happy with Transwest. They were extremely helpful throughout the whole process. They had all of their paperwork in an easy to read and sign format (they highlighted very cleverly in pink and blue where each of us needed to sign), and they explained everything very thoroughly. We have several numbers to call for help or advice any time we need it (especially our maiden voyage). I am very impressed and would highly recommend them to anyone purchasing a new or used RV. They also have promotional chapstick, which is a brilliant marketing tactic in Colorado! Hats off to the marketing team.
The Crescendo by Gulf Stream:
So, here she is, in all her glory! Suitably, we have named her Backpack. We will have quite the Adventure in a Backpack!"
You can follow Nate & Steph's adventures at: http://adventureinabackpack.com/about