Follow Your Detour to Transwest
To Follow Your Detour, You Have to Jump off the Main Road
Every customer is special. Every customer story has its own twist. We love all of our customers and look forward to working with them not only on the selection of their new motorhome, but also post-sale seeing them again and again for maintenance checkups. It's our goal to be the RV dealer in Denver that educates you and sets you up for successful travels in the near and far future.
It does feel a little special when a Front Range motor coach customer goes so far as to tell the world about their Transwest RV dealership experience, by the review, rating or even blog!
The McKenzie's Winnebago
Lindsey and Dan McKenzie, after months of online RV motorcoach shopping for a Class A, found their way to our Frederick location, just north of Denver. Transwest RV is a Winnebago Industries Circle of Excellence RV Dealer for Northern Colorado. As full-time RVers, their selection wasn't just about convenience, it was about functionality and daily experiences that they wanted to simplify.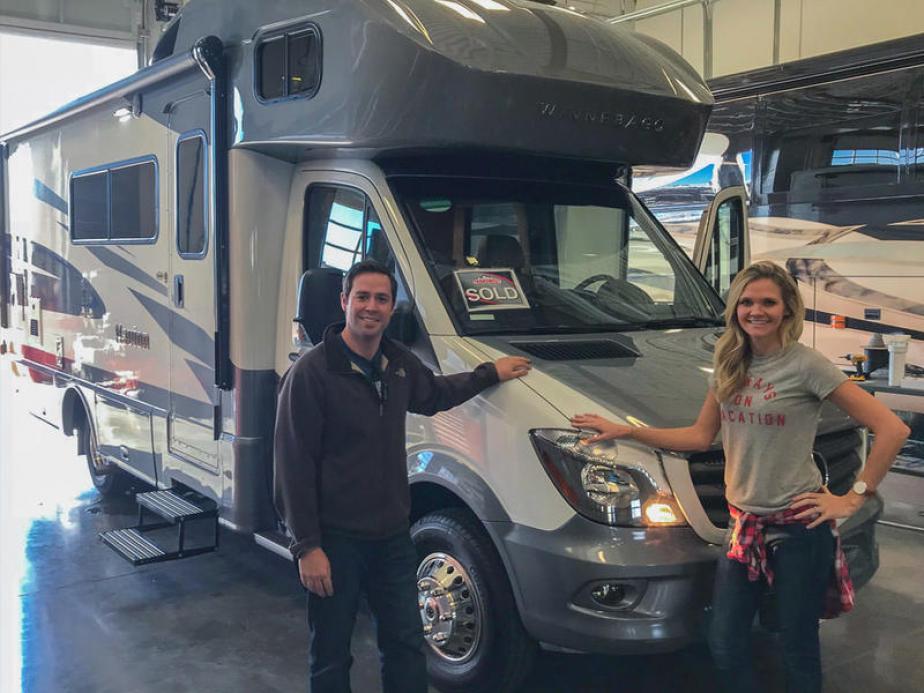 As it turned out what they thought they were looking for was not what they fell in love with, and a new direction was forged as they toured the 2018 Winnebago Navion 24D (one of our most popular motorcoaches)! Like those that came before them, they found the Navion to be convenient, comfortable, and easy to maneuver.
The Pick-up
We have always been truly grateful to have a fantastic, knowledgeable and friendly team at Transwest. Each new customer (and each returning customer) is given a guided walk, through the ins and outs of their new motorcoach on delivery day. The McKenzie's did an amazing job filming theirs.
The support doesn't stop on delivery day. It's is our corporate mission to get you on the road and to keep you there, which is why our customer support teams are here from the first day to the last. Whether you shop us in Colorado Springs at our Fountain location, Grand Junction for those on the Western Slope, Belton, Missouri for our Eastern customers, or right here in Frederick, Colorado just outside of Denver our mission stays the same.
Check out our inventory, or speak with one of our knowledgeable sales team members today and get your personal questions answered. Could be, the motorcoach you thought you wanted…isn't the motorhome that fits your real needs. Our team can help get you on your next adventure.
Don't forget to follow the McKenzies on the road and their blog "Follow Your Detour".
RVs for Sale
Check out the best in RVs.