How to Get Internet in Your RV
Whether you are a full-time RVer, or a weekend warrior, having the option to stay connected to the internet on the road is important to many people. Some need the internet daily for remote work or streaming their favorite TV shows. The good news is that in today's digitally connected world, numerous options allow you to have reliable internet on the road.
Let's take a look at the top RV internet options available, including their pros and cons.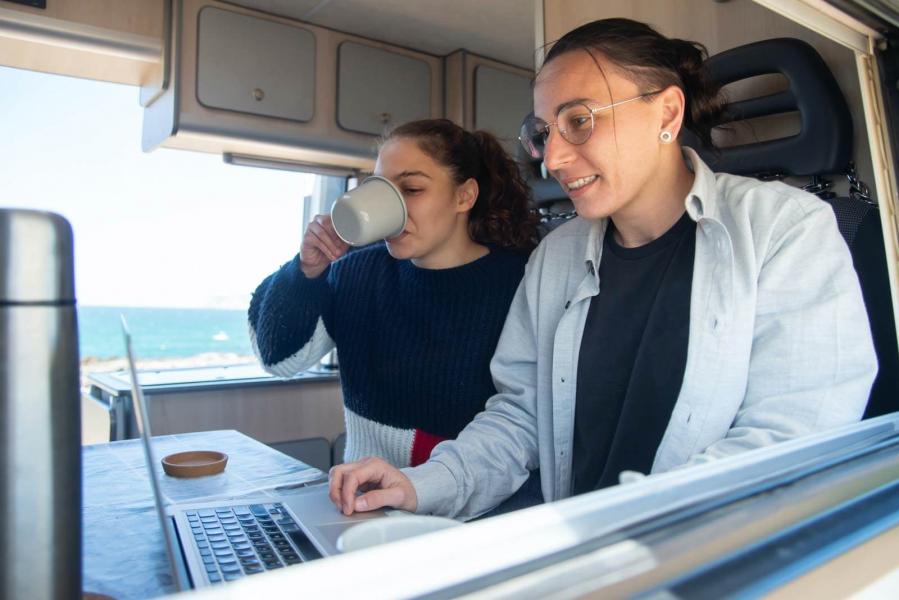 Using Your Cell Phone Plan
One of the easiest options for using the internet on the road is to simply turn your existing cell phone plan into your mobile hotspot. There are a few things to keep in mind when you opt to go this route:
Data limits:

You'll want to check with your cell phone provider to determine your current data limits. Most companies offer an unlimited data option. However, these plans often throttle your speed after you utilize a predetermined amount of data each month. Take the time to review your plan and ask about potential upgrades.

Hotspot options:

Not all cell phones and not every provider allows you to use your phone as a hotspot. Make sure to check your phone and provider's compatibility with this option.

Coverage:

Depending on where you plan to travel, you might want to compare the coverage offered by each major provider. AT&T and Verizon boast some of the largest coverage areas, but coverage will depend a lot on the region of the country you plan to visit. And, if you plan to travel internationally, this can become even more of a challenge.
Pros
You won't need extra equipment.

You won't need to pay for a secondary plan.

Set up is simple.
Cons
You might face slower speeds due to network throttling.

Your provider might not offer this plan.

Coverage can be spotty in certain regions.
Purchasing a Dedicated Internet Plan
Another option to stay connected on the road is to purchase a separate, dedicated internet plan. You can either purchase one that is a cellular-based plan or a satellite.
Satellite RV Internet Plans
Satellite plans will require a higher cost investment upfront, but they provide the most reliable reach in remote locations. To enable satellite internet in your RV, you'll need a satellite receiver, modem, a controller, and a router. Satellite internet can only be used when you are parked, as the receiver will need to be pointed with a clear view of the southern sky.
Pros
Coverage is more reliable in remote locations.

You can boondock anywhere.

You won't run over your cell phone's data limits.
Cons
Upfront equipment costs are high.

You'll be paying for an additional monthly line item.

Set up can be complex.
Cellular RV Internet Plans
Cellular-based plans operate similarly to using your cell phone as a hotspot. However, they use a dedicated portable hotspot to pull in data. Some plans operate on a single provider, with others, such as Skyroam, allowing users to connect to any available cellular provider in the area. This diversifies your reach, offering a more robust amount of coverage. These systems can be used even when your RV is in motion, making them a good fit for those who work while on the road.
Pros
Setting up the system is simple.

There are better options for international travel.

Many plans offer month-to-month contracts.
Cons
Upfront equipment costs can be high.

You'll be paying for an additional monthly line item.

Coverage can be spotty in remote locations.
Relying on WiFi in Campgrounds
Another option to stay connected on the road is to pick campgrounds that offer on-site WiFi. With the increasing number of travelers who rely on the internet to work remotely and stay connected with family and friends, many RV resorts and private campgrounds now offer this added amenity.
This option is a good fit if you don't mind spending a little more on where you camp. Additionally, if you plan to spend long periods in one campground, using on-site WiFi is often a sufficient choice.
Pros
You have no added monthly costs.

There is no setup or maintenance on your end.

Internet speeds are usually higher.
Cons
Your travel plans are limited to WiFi-enabled campgrounds.

You are reliant upon a campground's upkeep of their WiFi systems.

You'll usually spend more on a camping spot.
Planning Your Internet Usage Around Free WiFi Locations
For those who don't require constant connectivity, another, more frugal option is to plan internet usage around free WiFi locations. Common locations that offer WiFi include the following:
Public libraries

Visitor centers

Cafes and bars

Town centers
Using free WiFi locations is a better fit for those who only need to hop onto the internet for a brief amount of time. It is not ideal for those who rely on the internet to work remotely or for those who wish to stream on their TV.
Pros
You have no added monthly costs.

There is no setup or maintenance on your end.

You can limit the amount of time you spend online by only focusing on connectivity for short periods.
Cons
Your usage will be intermittent.

It can be difficult to predict when you'll access the internet next.

Speed times are often slow.
Ask Your RV Center About Internet Add-Ons
With the increasing popularity of staying connected during travel, many RVs now come equipped with built-in internet capabilities. If you are in the process of trading in your old RV and purchasing a new motorhome, ask your RV center about what add-ons are available.
Built-in equipment is designed to make setting up your mobile internet simple and taps into the latest technology.
At Transwest, we're ready to help with your search for a new WiFi-enabled RV. We carry a high-quality inventory of RVs, many of which are equipped with the latest and best in mobile connectivity. Stop by one of our locations to learn more, or feel free to give our team a call. We look forward to helping you stay connected on your next RV adventure.
RVs for Sale
Check out the best in RVs.
Journey into Other Topics
Our industry experts are here to help.