Seven Tips for RVing with Your Pets
Traveling with your pets adds an extra level of joy to the experience. Romping down the trails with your dogs or watching your cat curl up contentedly on your RV dash are all enriching experiences.
In addition to those memories, many RVers want to bring the whole family along. This cuts down on costs related to kenneling or paying for a sitter, and for long-time or full-time RVers, bringing along your pets is a must.
Before you hit the open road with your furry family members, check out the following seven tips for RVing with your pets.
#1: Check policies before you book.
One of the benefits of traveling by RV is that you aren't confined by the rules of hotels along the way. For pet owners, this is particularly beneficial as many hotels have strict no-pet policies or costly pet fees.
However, while it might seem logical that your pet can go anywhere your RV can, there are certain campgrounds, state parks, and national parks that do not allow pets. Before you book a stay, make sure that you double-check what the pet policies are.
In most cases, campgrounds and RV resorts will simply ask that you keep your pet leashed at all times and that you clean up after your animals. Some state parks and national parks will have further guidelines around what areas your pets are allowed to explore with you.
The bottom line is it is better to know ahead of time what pet policies are in place rather than waiting until you show up. It would not be fun to find out that your pet is not welcome when you get there.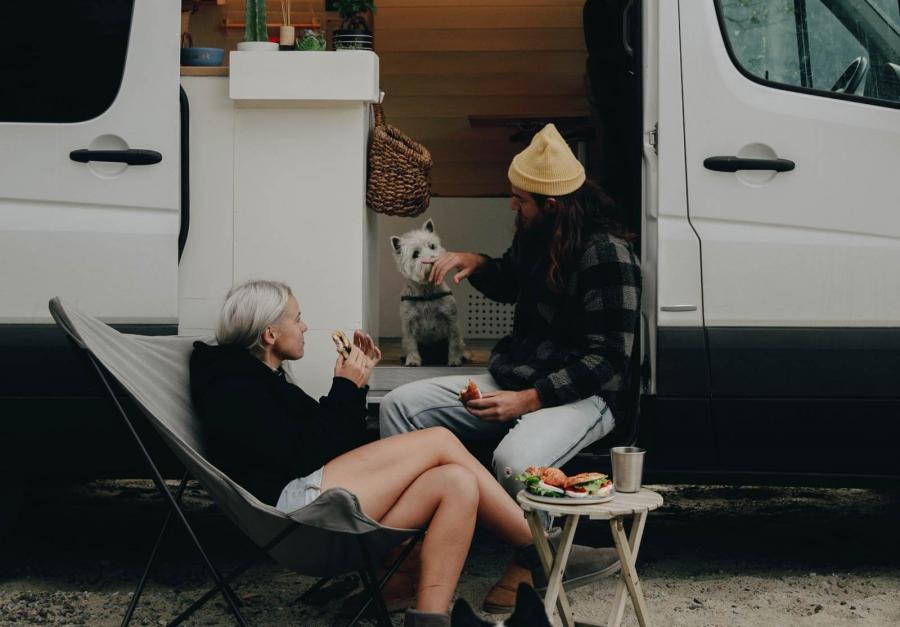 #2: Keep the weather in mind.
When traveling with your pets, be sure to check the weather forecast for where you are headed. On some days, you might want to explore trails or beaches that are not pet-friendly.
However, before you head out, you want to ensure that your pets will be safe in a temperature-controlled environment. If you are visiting an area where the temperatures will be excessively hot or cold, it might not be safe for your pet to be left alone. Make sure you research the climate before you bring along your pets.
#3: Be sure to pack all the essentials with this RV pet packing list.
To make your trip more enjoyable, you'll want to make sure you have all the essentials to keep your pet comfortable and healthy on the road. Use the following checklist to make sure you are ready for the trip:
Food and water bowls

Their regular food (changing food on the road can lead to an upset stomach)

Any medications they take, including flea and tick prevention and motion sickness meds

A collar with a name tag and your contact information

A sturdy leash

A comfortable bed

A carrier or crate

Toys and treats

A pet first aid kit

An outdoor rug or mat for your pet to lay on

A collapsible crate or fence

Poop bags to clean up after your pet
#4: Acclimate them to the road.
Before heading out on a long trip, take some time to acclimate your pet to the experience. For some animals, riding in an RV can be unsettling at first. Start by introducing them to your motorhome. Let them explore the interior of the RV and reward them with treats.
As they become comfortable in your RV, plan a short trip around the block to help them get used to the motion of the vehicle. If your pet suffers from motion sickness, consult your veterinarian about medication options.
Finally, make sure they have a safe, secure location to rest during travel. A crate or carrier with a bed, blankets, and toys that are secured in place is the perfect way to help them travel safely.
#5: Find ways to bring them along on your adventures.
For your pet, spending time with you is what brings them joy. Look for creative ways to include your pet in your daily adventures.
For dogs:
Be sure to start each day with a short stroll through the campground. Let your pal sniff all the new smells.

When possible, bring your dog along on the trails. They'll love the exercise and exploration.

Take your dog down to the water and let them join you in a swim.

Research pet-friendly patios in the area and let your pal join you for a post-hike drink and snack.
For cats:
Try training your cat to walk on a leash. Many cats adjust to harnesses over time and enjoy outdoor activity time.

Set up an outdoor enclosed space with an area for your cat to climb.

Take time each day to play with your cat.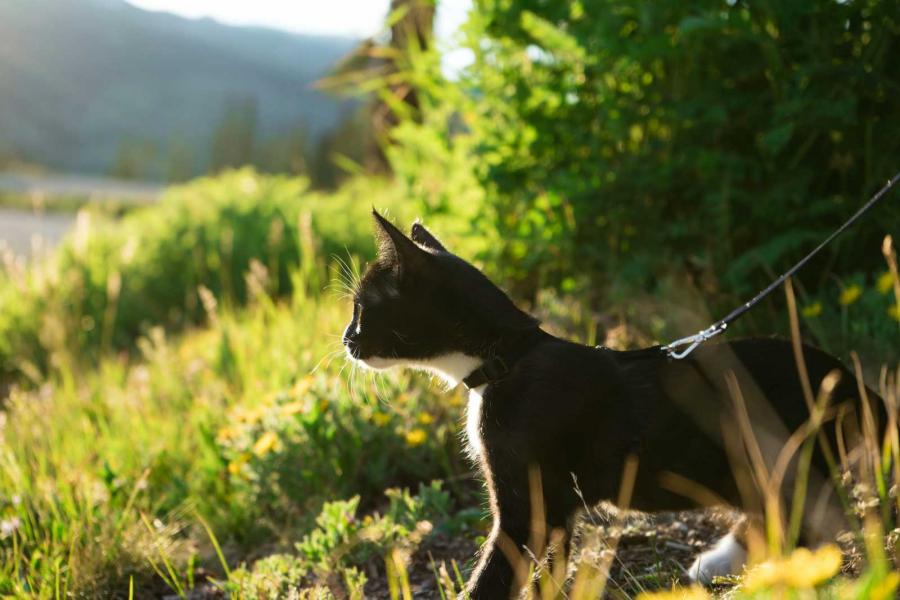 #6: Always be courteous to other campers.
There is no doubt that you love your pet, and their presence brings an immense amount of joy to your life. However, not everyone may love your pets as much as you do. Make sure that you are always courteous to other campers.
Clean up after your pet. Make sure that you bring along poop bags when you go on a walk.

Keep dogs and cats leashed when in public areas. Never let your animal approach another person or pet without their permission.

If your dog is prone to barking, don't leave them unattended in camp.

Obey posted signs and campground rules. Only take your pet on trails and in areas where they are allowed.
#7: Take time to appreciate your pet's perspective.
One of the best gifts our pets give us is the ability to live in the moment. It is easy to rush around when you're on a trip, trying to take in all the sights and activities. On your next RV adventure, take the time to appreciate your pet's perspective. Look for simple joys, like leisurely strolls, relaxing naps, and moments of play with their favorite toys.
You might be surprised at how much more you experience when taking a page out of your pet's book.
Visit Transwest to Find an RV for the Whole Family
If you plan to take your furry friend along on your next camping adventure, our team at Transwest is here to help. We can assist you in finding a motorhome that has plenty of space for you and your pets.
To learn more about available inventory or to ask about our trade-in deals, visit one of our locations or give our team a call. We look forward to helping you find the perfect rig for you and your furry pals.
RVs for Sale
Check out the best in RVs.
Journey into Other Topics
Our industry experts are here to help.